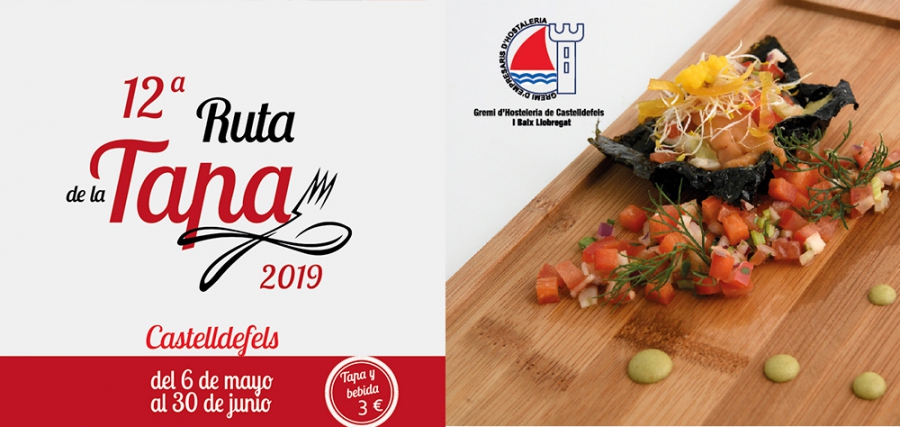 We have plan! We go for tapas with the "12th Ruta de la Tapa de Castelldefels"
On Monday, May 6, the eleventh edition of the Route of the tapa from Castelldefels will be launched, which will continue until June 30th.
The Guild of Hospitality of Castelldefels and Baix Llobregat, once again organizes a gastronomic Route to promote and taste exquisite tapas, for a price of € 3 with a drink included and as a novelty you can taste a cocktail at a price of € 5. The objective of this initiative is to publicize the excellence of our gastronomy inside and outside of Castelldefels. We have 29 great creative and innovative tapas, not to mention the 3 magnificent cocktails …
The president of the Guild, Mr. Manuel Ángel Ortiz Chumillas, wants you to have a plan in Castelldefels, in the 31 establishments that participate in this Route, a perfect itinerary to get to know bars, restaurants and chiringuitos of Castelldefels. Each guest will have a map with the location and the one who completes 50% with the stamp of the establishment, will enter the draw for a Tablet.
The 12th ROUTE OF THE TAPA, organized by the Catering Association of Castelldefels, with the collaboration of the City Council of Castelldefels, the School of Hospitality of Castelldefels, the magazine La Prensa, the communication agency TotOci, and the sponsorships of Cervezas Damm and Solbar .
On this occasion, the professional jury was formed by: Albert Mendiola (Best Chef 2017), Antonio Ponce Fernández (Gremi d'Hostaleria de Castelldefels), Sonia Sarnago Tejero (Escola d'Hostaleria de Castelldefels), Ana Quesada del Águila (Councilor- Delegate of Commerce, Tourism, Hospitality and Housing), Agustín Pedregal (Professor Escola d'Hostaleria de Castelldefels), Joan Capell Verge (Gastronomia – La Prensa), Diego Giménez Carro (TotOci), Raquel Vargas (Gremi d'Hostaleria de Castelldefels) ,, Tomas Garcia (M & T Magazine) who will be in charge of awarding the prizes.
Can you resist our plan?
You have the best tapas of Baix Llobregat in Castelldefels, come and check it!